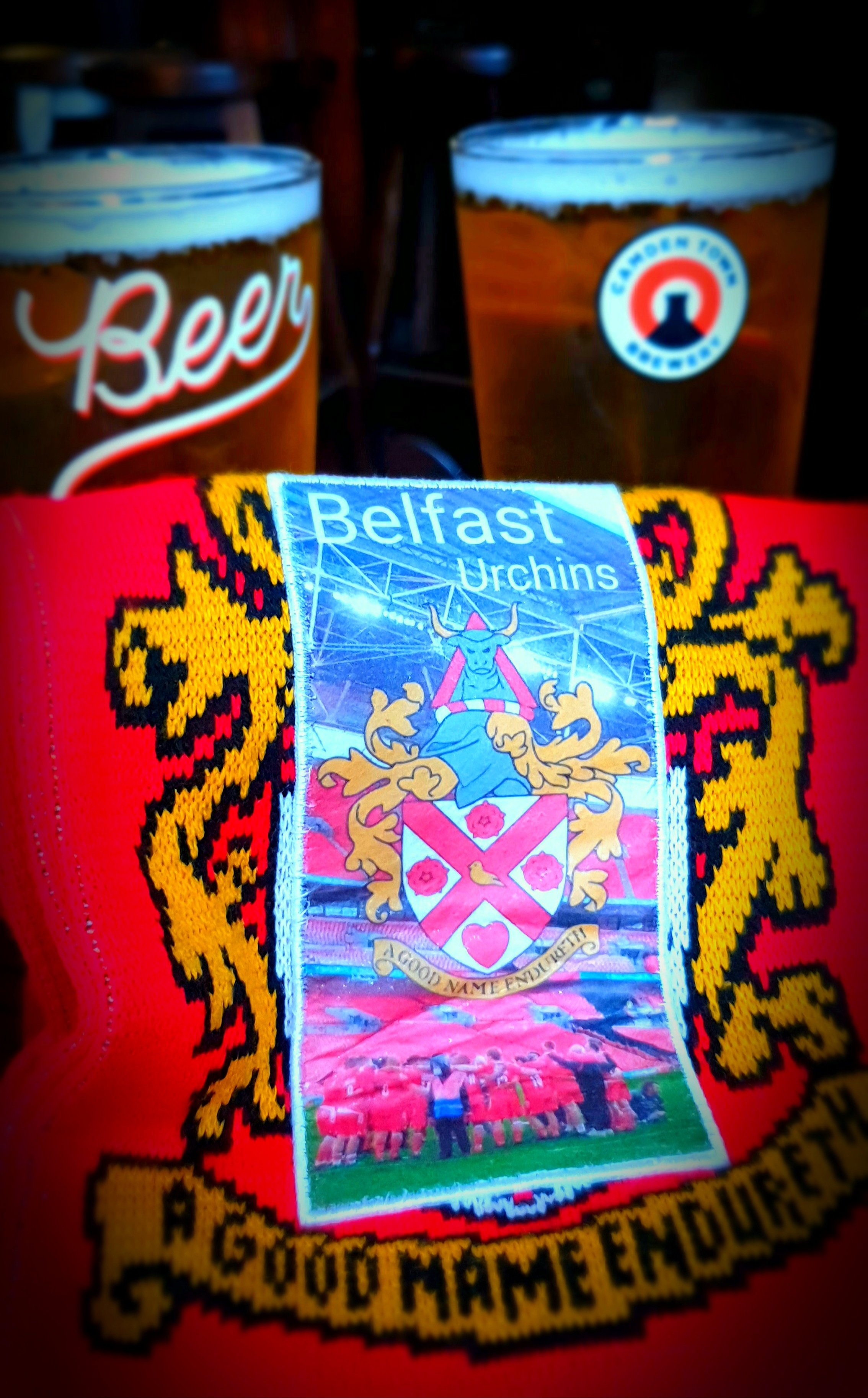 JRinBelfast
Regular Users
Posts

21

Joined

Last visited

Days Won

3
Profiles
Forums
Clubs
Blogs
Gallery
Store
Events
Videos
Everything posted by JRinBelfast
Just not our day. Definitely agree that skipper Lewwis was missed. Back at it on Tuesday, shoulders back...now smash it! Btw was great as always to catch up with so many of you. We literally were over just for the game and back home Sunday afternoon. We are just glad we got to see a game for a change! 🤣🤣 Cheers! Belfast Urchins ⚽️❤⚽️

Yep, not what we wanted, but as you say another hard game out of the way...let's move on and upwards!

My sister made them as a surprise for us coming over for Enfield Away...wore them to the taproom and Indian instead... lol...but an Urchin hat isn't just for Christmas...👌

🎄 Merry Christmas, 🎄 'Jingle Bells Jingle Bells Oh what fun it is to be on top of the league today!' See you in the New Year. Janine and Mark Belfast Urchins

Belfast Urchins Janine and Mark Ramsey

Cheers for all the insight and reviews of the game...absolutely cracking result and hard fought away win👌...Meanwhile yesterday in deepest darkest Larne...we were standing in the coldest, wettest, windiest football ground with zero cover watching our local team lose 2 nil away and the only smiles were us keeping up to date with the Urchins as always! We are due to come over next month when the double 2 day rail strikes are scheduled...should these still happen, we will be plotting all alternatives to make sure we get to the game!

Loved the Swedish fans...such fun and what about the best mascot ever!! Had such a great weekend, great to catch up with so many of you, get our supporters' cards renewed and pickup some brilliant merch including the class FA Trophy signed shirt. Are back over for the Ornfest weekend...drying out in the meantime🤣🤣

We are over and were going to Billericay...can get our train tickets refunded...may just hit the Upminster Tap for a few tomorrow afternoon as we're in the Manor...plenty of other games ahead of us...such a sad time for our nation...

Any chance of posting pics of any new tees and hoodies etc? Hopefully will pick up a few bits when we are next over in September and October?

Yes Belfast Urchins are happy to continue with home sponsorship for Tom Wraight...

Any update on club news for those unable to attend AGM ?

Now that any tiny particles of dust of disappointment have settled... Can I just say a massive well done and thanks to everyone at the Club, our manager, the players, background staff, volunteers, bar staff and especially the fans who make us feel so very welcome on every visit. Belfast Urchins would love to sponsor Tom Wraight again...for a full season and can send payment through whenever this opens again next season? Up the chins and see you all soon! ❤⚽️❤ Thanks - I cannot start the list yet (until we know who is in the quad next season), but I always give the previous sponsor first choice. So your name is there against Tom Wraight. Tony

As an overseas fan, I too enjoy following this forum for updates etc... Happy to throw in a few shillings...❤⚽️❤

What a brilliant year the Mighty Urchins have had! Merry Christmas and here's to a wonderful 2022... From the Belfast Urchins ❤ ⚽️ ❤

The Belfast 2 are over... uppa urchins Cya in the bar ?

https://m.facebook.com/story.php?story_fbid=595889458415090&id=558005868 Cheers to everyone for the brilliant welcome on Tuesday 3 cracking goals and some well dodgy keeping...see you all soon! #belfasturchinsontour

Is there an online link to buy the book yet? Cheers Janine Janine I have sent you an email - I will send you a PayPal invoice (but email me off list AFCHTM.CO.UK with your mailing address please. Thanks Tony

Thanks for this, will be coming over at the start of the season...looking forward to the book?